POPULAR PRODUCTS
Complete your order with these additional items. For example, a recyclable plastic Ø 14 cm plant pot and the Amaranth coconut fiber pack so that you are fully equipped with the right resources to immediately plant your Amaryllis bulb and enjoy your purchase. Very suitable to give as a gift so that you can be sure that the recipient has everything at hand right away.
Show more
Show less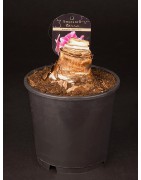 With this recyclable plastic plant pot Ø 14 cm you have the perfect growing pot for your Amaryllis bulb in a neutral color scheme....
Amaranth coconut fiber tablets are made from compressed ground coconut fibers from Sri Lanka. An excellent airy substrate for your...
Giving an Amaryllis bulb as a gift is of course complete with potting soil and plant pot, so that the recipient immediately has...