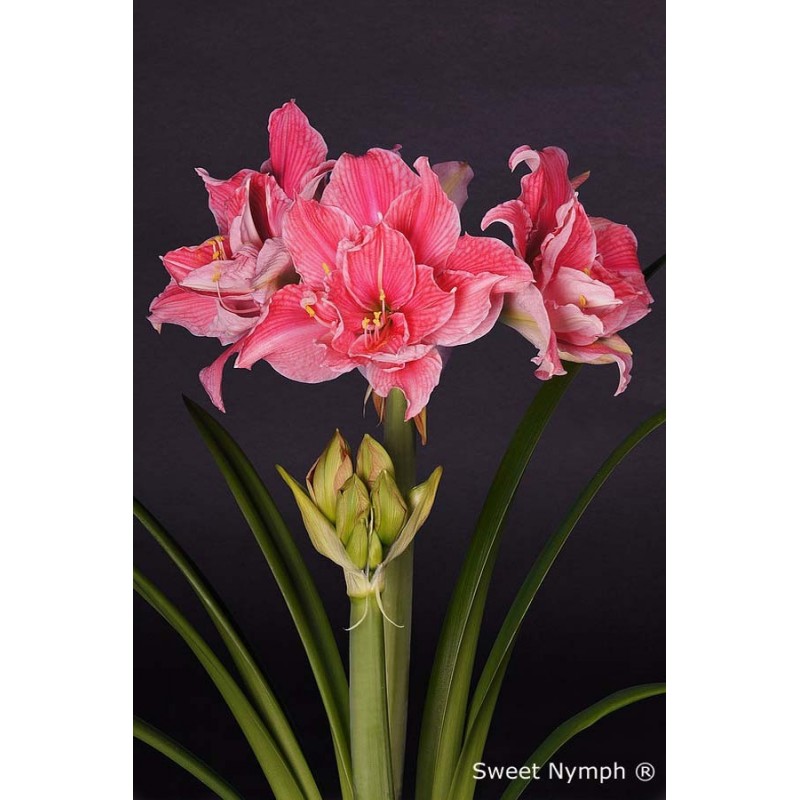 
Sweet Nymph®
Sweet Nymph®
Sweet Nymph® is the pink sister of our White Nymph amaryllis. This pink double amaryllis has twice as many petals as a normal amaryllis. The petals of the Sweet Nymph are pale pink with a dark pink line pattern and an apple green heart. The lovely Sweet Nymph needs simple care.

Would you like to buy double amaryllis bulbs? Order directly at Amaranth-Amaryllis.com.
In Stock
The flowers of the Sweet Nymph have a double row of petals. This makes the Sweet Nymph unique! The large flowers have a diameter of about 22 centimeters and are light pink with a dark pink line pattern. The stem of the amaryllis is between 45 and 50 centimeters long and the flower bulb has a diameter of 11 centimeters. It is wonderful to see how the amaryllis grows from the bulb into these incredible flowers.
Plant the flower bulb in the flowerpot of your choice and place the pot in a light and warm place. Sweet Nymph blooms after about 8 weeks.
Data sheet
Type

Double Flowering

Color

Pink

Length of stem

45-50 centimeter

Diameter of flower

ca. 22 cm

Blooms after

approx. 8 weeks
Frequently bought together

Products other customers bought