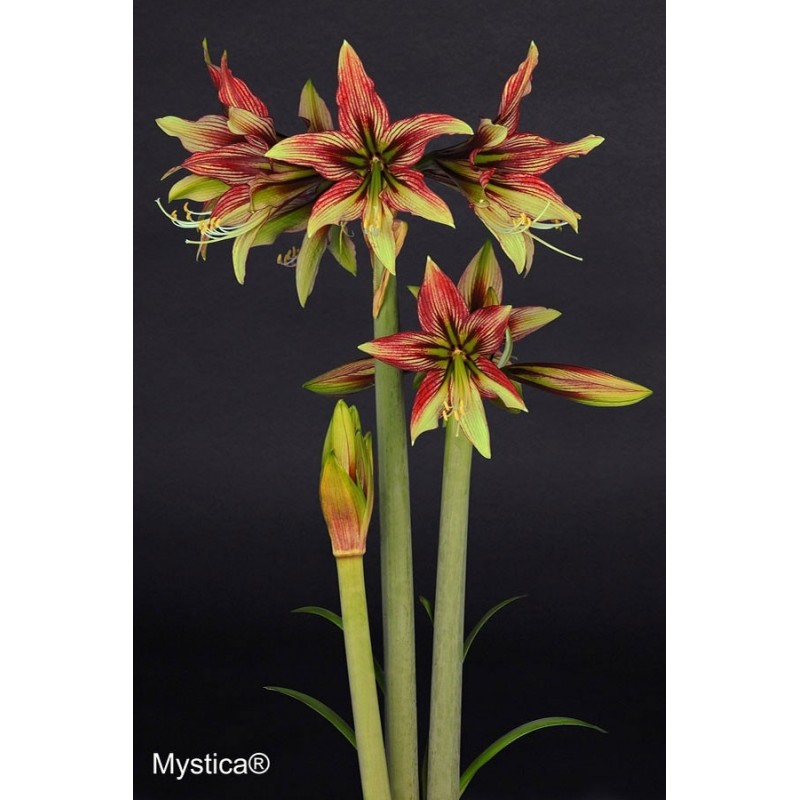 
Mystica®
Mystica®
Amaryllis Mystica® is a dazzling amaryllis, a cybister amaryllis. The delicate flower has long, thin petals in intense colors. The petals are vibrant, lime green with a beautiful terracotta line pattern, which makes this amaryllis very special! The amaryllis hippeastrum Mystica will steal the show in your home and only needs simple care!

You can order an amaryllis online at Amaranth-Amarylis.com.
In Stock
The unique cybister amaryllis Mystica has flowers with a diameter of about 10 to 12 centimeters and a stem that is about 50 to 60 centimeters long. The amaryllis hippeastrum flower bulb has a diameter of about 9 centimeters.
Plant the amaryllis flower bulb in the flowerpot of your choice and place the pot in a light and warm place. Mystica blooms after about 8 weeks.
Read more about the care of amaryllises.
Data sheet
Type

Cybister

Color

Green / Red

Length of stem

50-60 centimeter

Diameter of flower

ca. 11 cm
Frequently bought together

Products other customers bought