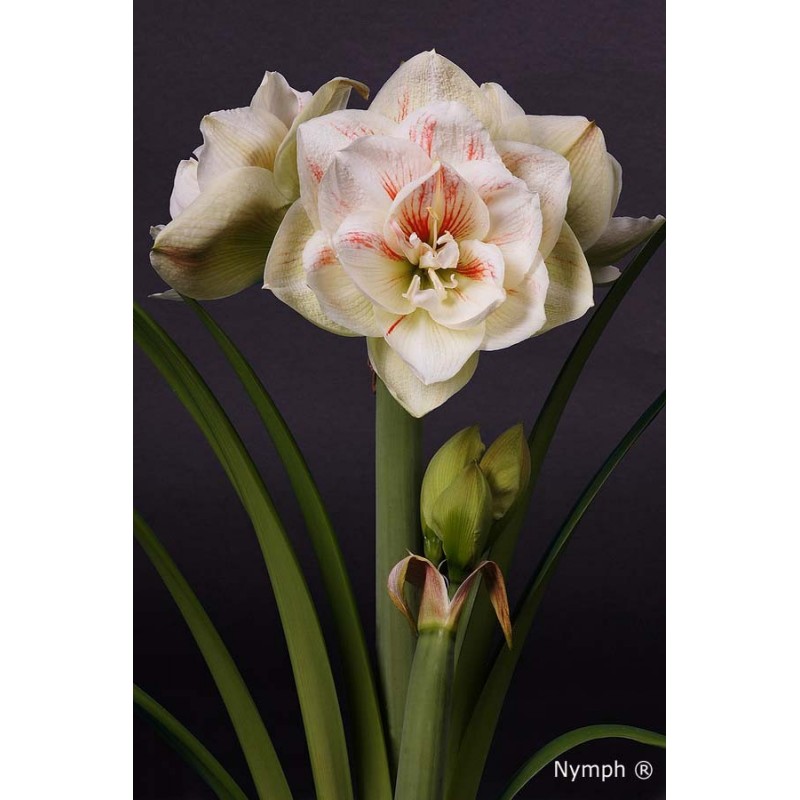 
Nymph®
Nymph®
Nymph® is the sister of Sweet Nymph and White Nymph. This fabulous double white amaryllis flower has a lot of petals, which makes the Nymph very impressive! The wide petals are snow white, decorated with a few thin red stripes. The heart of the amaryllis is apple green. This flower is truly eye-catching and only needs simple care.

Buy amaryllis flowers at Amaranth-Amaryllis.com.
Sold Out
The Nymph double amaryllis has unusual flowers with a diameter of about 22 centimeters and a stem that is about 45 to 50 centimeters long. The amaryllis flower bulb has a diameter of about 11 centimeters.
Plant the amaryllis flower bulb in the flowerpot of your choice and place the pot in a light and warm place. Nymph blooms after about 8 weeks. 
Data sheet
Type

Double Flowering

Color

White

Length of stem

45 centimeter

Diameter of flower

ca. 22 cm

Blooms after

approx. 8 weeks
Frequently bought together

Products other customers bought