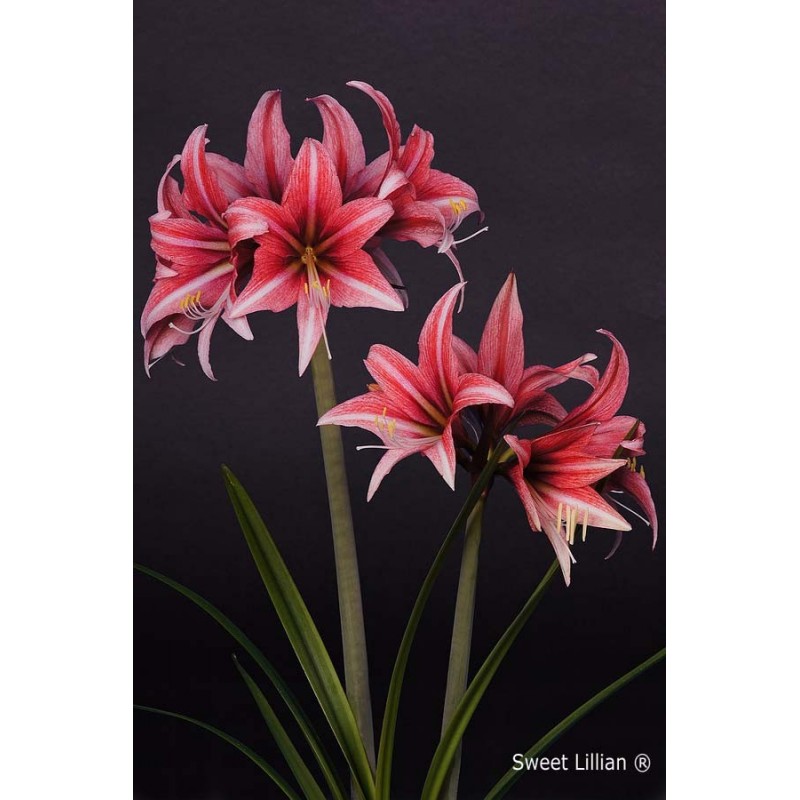 
Sweet Lillian®
Sweet Lillian®
The pink Sweet Lillian® amaryllis flower is one of our rare amaryllis varieties. 
This dainty Midi amaryllis has long, narrow petals striped with lovely pink lines. 
The heart of the flower is dark pink with a
 broad, pale pink stripe that runs through the center of the petal. 
The Sweet Lillian has multiple flowers on one stem and
 only needs simple care.
Sold Out
The beautiful pink amaryllis flower Sweet Lillian has several pink flowers with a diameter of about 9 centimeters. The stem is about 45 centimeters long and the amaryllis flower bulb has a diameter of about 9 centimeters.
Plant the amaryllis flower bulb in the flowerpot of your choice and place the pot in a light and warm place. Sweet Lillian blooms after about 8 weeks.
Data sheet
Type

Midi

Color

Pink

Length of stem

45 centimeter

Diameter of flower

ca. 14 cm

Blooms after

approx. 8 weeks
Frequently bought together

Products other customers bought

Très Chic® is a gorgeous red and white amaryllis. The contrasting colors of this midi amaryllis make the Très Chic very special. The...

Exotic Star® is a graceful midi amaryllis that has similar colors to an orchid. It is a charming flower with beautiful pastel pink...

Charisma® is a beautiful red midi amaryllis. Charisma's star-shaped flowers have broad petals in a vivacious pinky red color that are...

The Red Amazone® lives up to its name! This beautiful intense deep red Amaryllis seems to come directly from the jungle of the Amazon....

Terra Mystica® is a unique Midi amaryllis in a brown, orange shade. The flowers of the Terra Mystica have one of the most unique...

The midi amaryllis Neon® will bring color into your home, even on the drizzliest winter days. The broad petals of this amaryllis Neon are...

The Flamed Amadeus® is a gorgeous, striking amaryllis. It looks like it's on fire! This double-flowered amaryllis is bright red with...