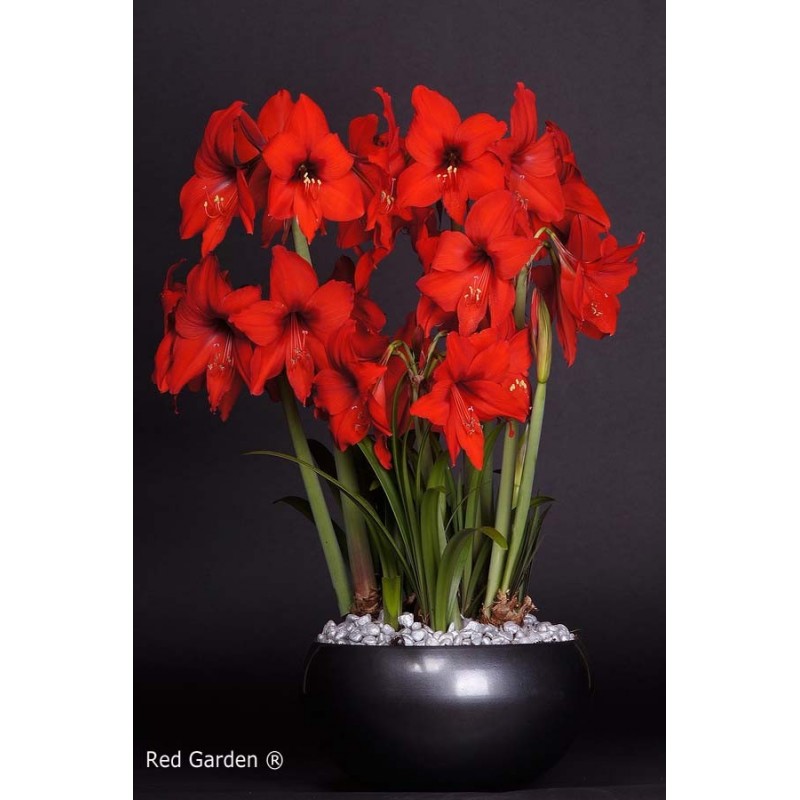 
Red Garden®
Red Garden®
The amaryllis Red Garden® is a special multiflora Amaryllis. With a multiflora amaryllis, the flower bulb consists of a cluster of flower bulbs. From this grow multiple stems with different gorgeous flowers. The abundance of flowers makes the Red Garden very impressive! Red Garden only needs simple care.

Enjoy the beauty of the Red Garden multiflora amaryllis.
In Stock
The scarlet flowers of the Red Garden amaryllis have a diameter of about 11 centimeters.  4 to 7 stalks of about 45 centimeters will grow from the amaryllis flower bulb with lots of flowers on each stem. The large number of striking flowers makes the Red Garden a stunning amaryllis to have in your home.

After about 8 weeks the Red Garden will bloom and you can enjoy this special amaryllis. Read more about the care of amaryllises.
Tip: A stable plant bowl with corresponding coconut soil is available especially for the Multiflora species. Bought together extra cheaply to give as a gift or just for yourself.
Data sheet
Type

Multiflora

Color

Red

Length of stem

45 centimeter

Diameter of flower

ca. 11 cm

Blooms after

approx. 8 weeks
Frequently bought together

Products other customers bought