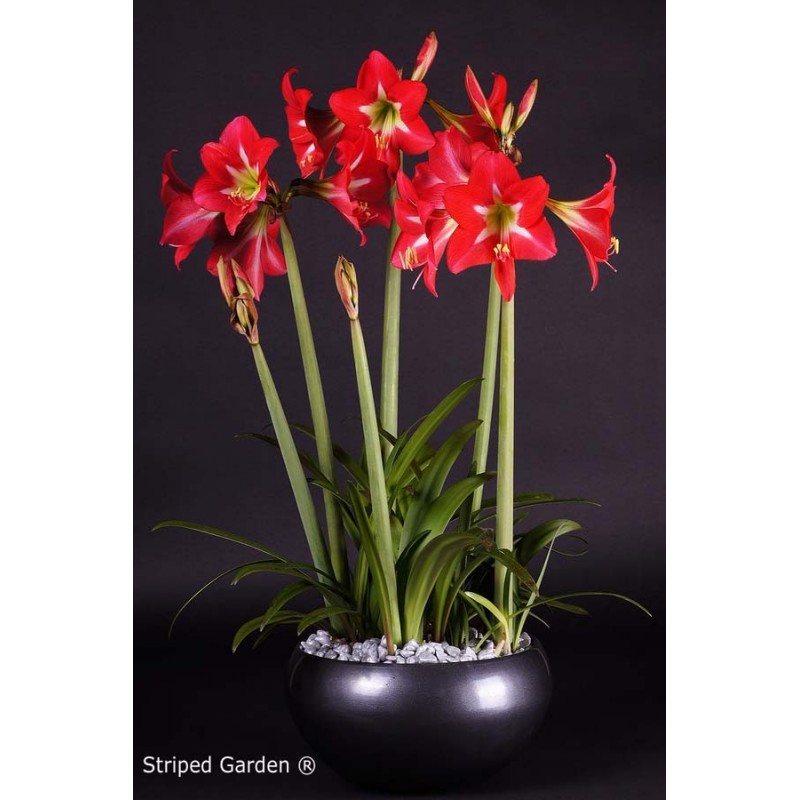 
Striped Garden®
Striped Garden®
The amaryllis Striped Garden® is a spectacular multiflora amaryllis. Several stalks and many beautiful flowers grow from the cluster of different Striped Garden flower bulbs. With a remarkable result! The Striped Garden will steal the show thanks to its many impressive, brilliant red flowers! Striped Garden needs only simple care.

Buy amaryllis christmas flower bulbs at Amaranth-Amaryllis.com
In Stock
The striking red flowers of the Striped Garden are smaller than the average amaryllis flower, with a diameter of about 9 centimeters. But the Striped Garden remains very impressive, because the Striped Garden has a large number of flowers. The flowers of the Striped Garden are brilliant red with white stripes running from the heart of the flower. From the amaryllis flower bulb 4 to 7 stalks will grow, each about 45 centimeters in length, each with different flowers.

Plant the flower bulb in the flowerpot of your choice and place the pot in a light and warm place. Striped Garden blooms after about 8 weeks. Read more about the care of amaryllises.
Tip: A stable plant bowl with corresponding coconut soil is available especially for the Multiflora species. Bought together extra cheaply to give as a gift or just for yourself.
Data sheet
Type

Multiflora

Color

Red

Length of stem

45 centimeter

Diameter of flower

ca. 9 centimeter
Frequently bought together

Products other customers bought