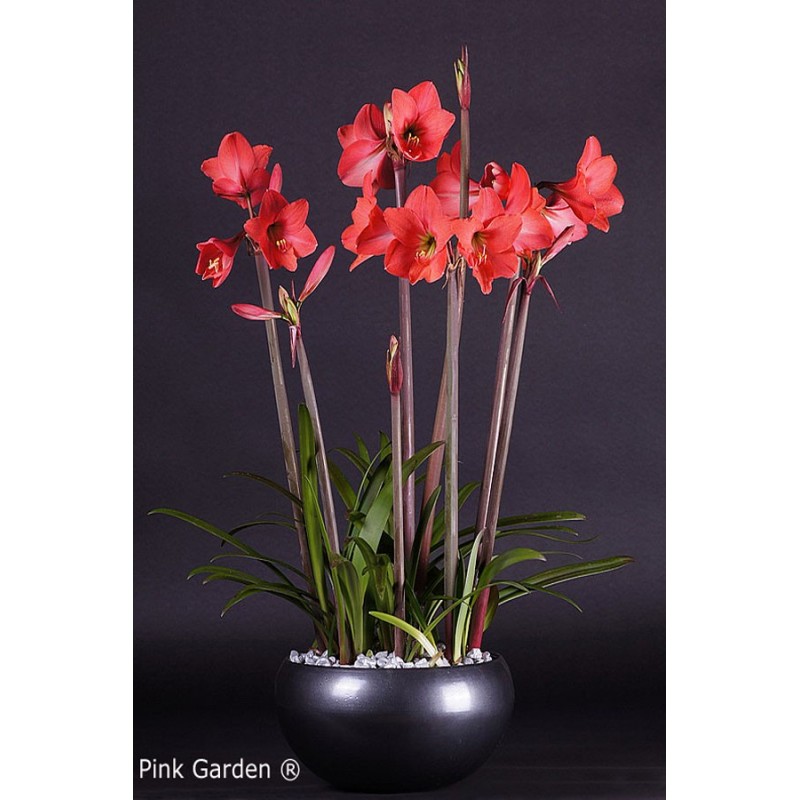 
Pink Garden®
Pink Garden®
The Multiflora amaryllis Pink Garden® has delightful salmon pink flowers. From the multiflora flower bulb grow several purple-colored stalks, from which an abundance of flowers bloom. The final result is magnificent! The Pink Garden will steal the show in your home and needs simple care.

Do you want an amaryllis delivered? Order on Amaranth-Amaryllis.com and you will receive the amaryllis at home.
In Stock
The salmon pink flowers of the amaryllis Pink Garden are smaller than an average amaryllis. The flowers have a diameter of about 13 centimeters. The Pink Garden is an impressive multiflora amaryllis with a multitude of flowers. From the amaryllis flower bulb grow 4 to 7 purple-colored stalks of about 45 centimeters in length.

Plant the flower bulb in the flowerpot of your choice and place the pot in a light and warm place. After about 8 weeks you will get to enjoy Pink Garden's beautiful flowers. Read more about the care of amaryllises.
Tip: A stable plant bowl with corresponding coconut soil is available especially for the Multiflora species. Bought together extra cheaply to give as a gift or just for yourself.
Data sheet
Type

Multiflora

Color

Pink

Length of stem

45 centimeter

Diameter of flower

ca. 13 centimeter

Blooms after

approx. 8 weeks
Frequently bought together

Products other customers bought