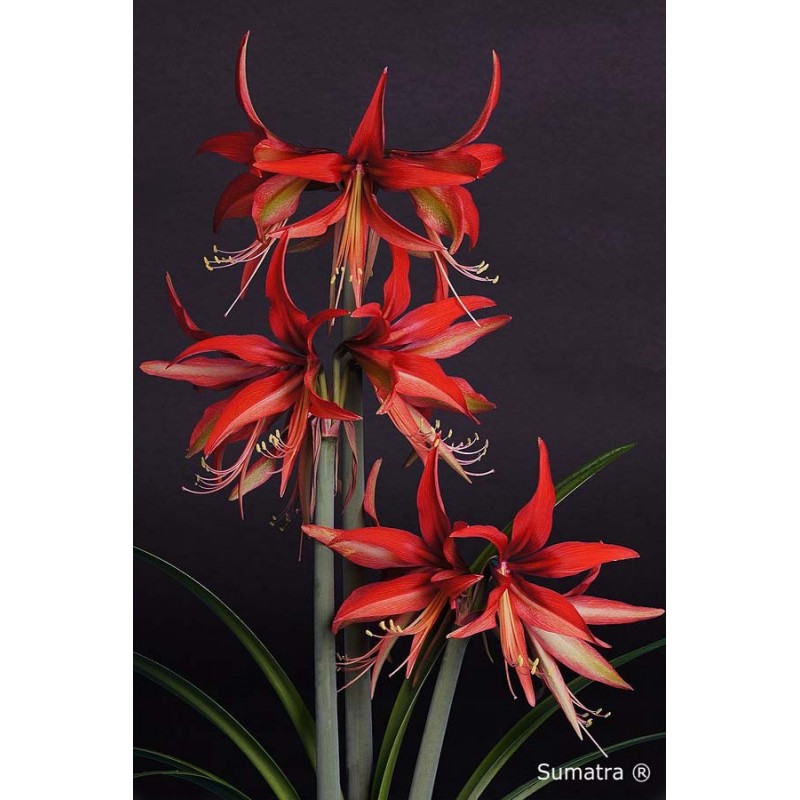 
Sumatra®
Sumatra®
The spectacular cybister amaryllis Sumatra® looks like a rare, exotic plant. The large flowers of the Sumatra amaryllis have long thin petals in a penetrating red color with a deep burgundy centre. At the bottom of the petals you can also see accents of light green and white. The Sumatra amaryllis needs simple care.

Buy amaryllis hippeastrum bulbs at Amaranth-Amarylis.com.
In Stock
The exotic flower of the Sumatra amaryllis is a real eye-catcher. This amaryllis has a beautiful flower with a diameter of about 15 centimeters. The stem is 65 centimeters long and the flower bulb has a diameter of about 9 centimeters. The Sumatra amaryllis is striking!
Plant the amaryllis flower bulb in the flowerpot of your choice and place the pot in a light and warm place. Sumatra blooms after about 8 weeks. 
Data sheet
Type

Cybister

Color

Red / White

Diameter of flower

ca. 15 cm

Blooms after

approx. 8 weeks
Frequently bought together

Products other customers bought