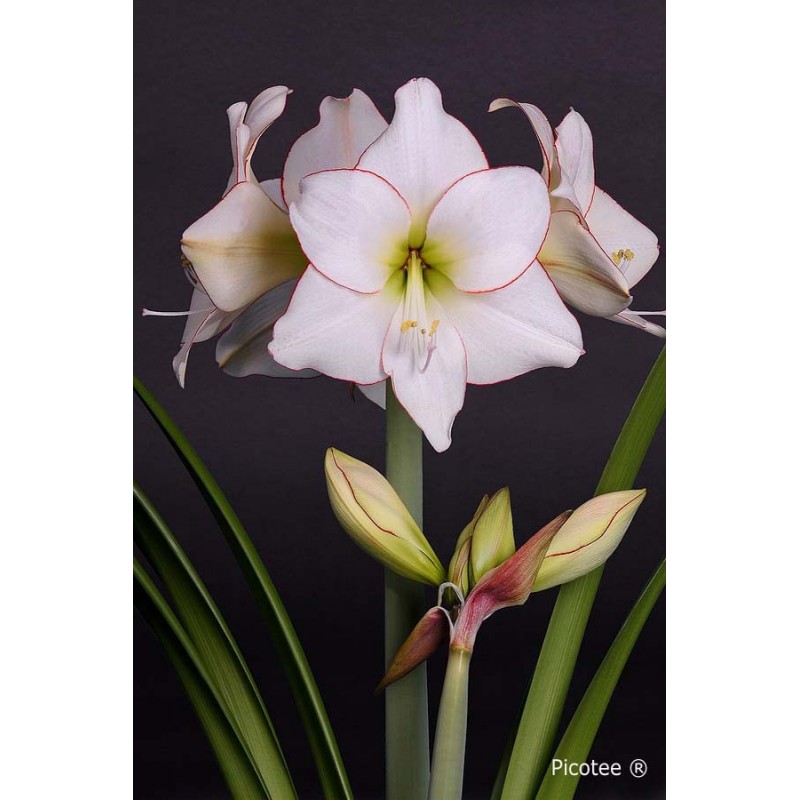 
Picotee
Picotee
White amaryllis Picotee is a special midi amaryllis. The pure white flowers of this elegant amaryllis have an apple green heart. One of the loveliest details on this flower is the fine red line that runs around the broad, white petals. Picotee is a tranquil flower that needs simple care. It is one of our most popular amaryllises!

Order amaryllis Picotee online at Amaranth-Amaryllis.com.
Sold Out
The star-shaped white flowers of the Picotee amaryllis have a thin red line along the edge of its petals. Picotee is a midi amaryllis and the flowers have a diameter of about 15 centimeters. The stem of the Picotee amaryllis is between 45 and 50 centimeters long and the flower bulb has a diameter of about 9 centimeters.

Plant the flower bulb in the flowerpot of your choice and place the pot in a light and warm place. Amaryllis Picotee blooms after about 8 weeks. Read more about the care of amaryllises.
Data sheet
Type

Midi

Color

White

Length of stem

45-50 centimeter

Diameter of flower

ca. 15 cm

Blooms after

approx. 8 weeks
Frequently bought together

With this recyclable plastic plant pot Ø 14 cm you have the perfect growing pot for your Amaryllis bulb in a neutral color scheme....

Amaranth coconut fiber tablets are made from compressed ground coconut fibers from Sri Lanka. An excellent airy substrate for your...

Giving an Amaryllis bulb as a gift is of course complete with potting soil and plant pot, so that the recipient immediately has...

Products other customers bought